DEMON LUNG: New Album Set For June Release Via Candlelight Records
Candlelight Records today confirms June 16th as the North American release date for A Dracula, the second full-length album from Las Vegas-based doom metal band, DEMON LUNG. Produced by Billy Anderson (Neurosis, High On Fire, Eyehategod etc.), the album will be available for preorder via Amazon, iTunes and physical retailers beginning May 26th and is available for preorder now via Candlelight's official web store and BandCamp.
In mid-December, DEMON LUNG began their second pilgrimage to Oregon to work with Anderson. At the journey's conclusion, eight dark hymns became A Dracula's storyline. Using Juan López Moctezuma's 1977 horror film, Alucarda, as the album's muse, the audio is packaged with unique original art by illustrator Joshua Foster (Pallbearer). Drummer Jeremy Brenton notes, "When we started the writing process, we happened to be deep into an Alucarda obsession. [Vocalist] Shanda [Fredrick] sat down and made an outline for her take on the film and we all started crafting songs to flow with it. Fitting the mood of each riff and melody with the narrative was challenging but it is the most satisfying way for us to write."
Fredrick adds, "Alucarda is a more relatable story for me than our last album's subject matter; which made writing a lot more fun this time around. The heroine in this story is the daughter of Satan, who happens to fall in love with the purest of souls in the convent she resides. She coaxes this soul over to the dark, with only intentions of love but in doing so she dooms her to death by the hands of the nuns. The anger consumes her and she uses her dark powers to resurrect her love and together they kill the convent and then the world. So like I said… it's a lot more fun this time around."
"While we naturally continued where we left off with The Hundredth Name," shares Brenton, "this album is definitely faster, definitely more epic. We spent twice as much time in the studio with Billy than we did last time and we had more time to experiment. This was certainly the hardest we have ever worked on anything and we're very proud of the final product."
A Dracula Track Listing:
1. Rursumque Alucarda
2. Behold, The Daughter
3. I Am Haunted
4. Gypsy Cursem
5. Deny The Savior
6. Mark Of Jubilee
7. Rursumque Adracula
8. Raped By The Serpent
DEMON LUNG is Shanda Fredrick and Jeremy Brenton with guitarists Phil Burns and Brent Lynch and bassist Jason Lamb. Tour dates in support of A Dracula will be announced shortly.
https://candlelightrecordsusa.bandcamp.com/album/a-dracula
http://www.manicmusiconline.com/demon-lung-a-dracula
http://www.facebook.com/demonlungband
http://www.candlelightrecordsusa.com
October 2013 Metal Hammer: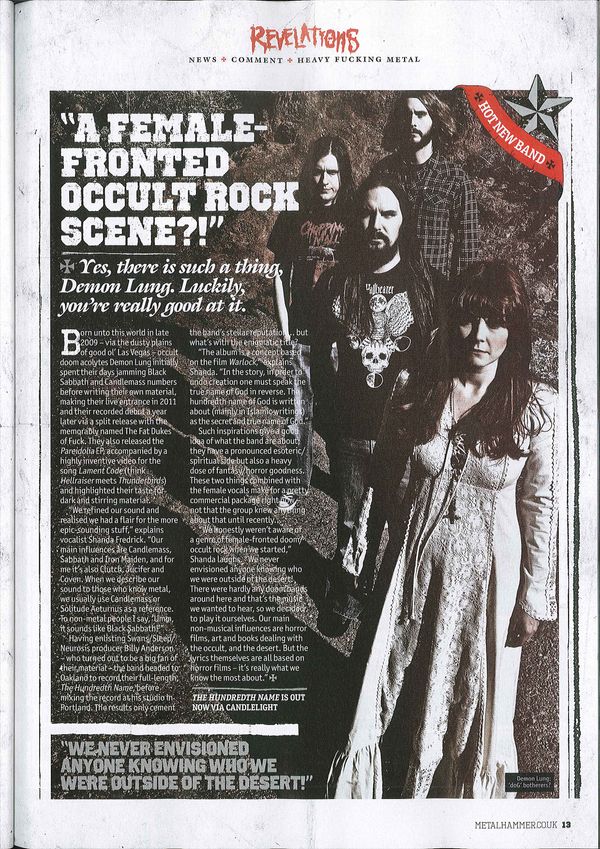 Shanda featured in Terrorizer's special THE DEVIL'S MUSIC edition: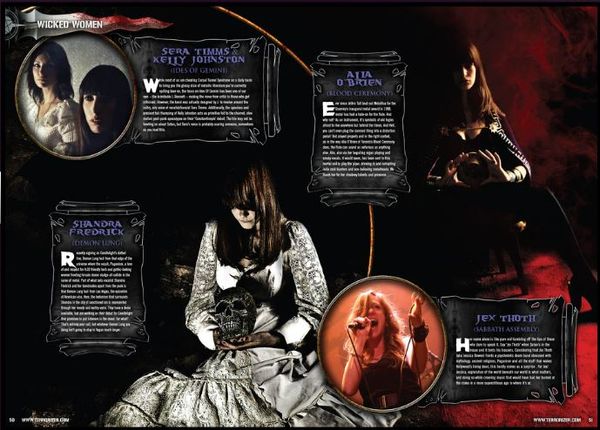 Terrorizer interview with Shanda July 2013: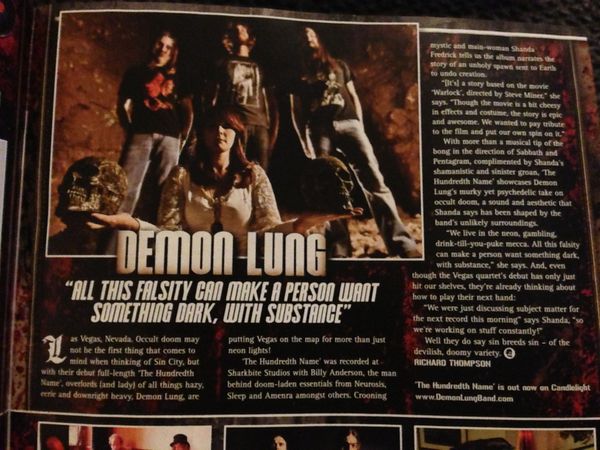 Decibel interview with Shanda:
http://www.decibelmagazine.com/featured/interview-shanda-fredrick-of-demon-lung-on-doom-horror-and-life-in-sin-city/
"I have not been able to stop listening to it. 100% awesome." – That Devil Music

"It has a deft touch and a solid sound with no fat or padding and is clearly from the soul. Fair to say that Demon Lung are a welcome addition to the ranks of the doomed." – Ave Noctum [Rating: 7.5/10]

"I fucking love this EP!!" – Rock N Reel Reviews [Rating: 4.5/5]

"The fact is Pareidolia is a great release, a very strong debut, and Demon Lung a definite emerging force." – RingMaster Review

"Musicwise they bring you the traditional doom we adore in bands like Candlemass and Black Sabbath, but they do possess that ability to creep you up and give you that awkward feeling one can experience in a band like The Wounded Kings. Just pure, honest and frightening." – Lords of Metal [Rating: 85/100]

"This smokes!" – Loud Mag [Rating: 90/100]

"Loves of classic heavy-doom metal will appreciate this release." – Femme Metal

"Killer traditional/epic doom metal." – Metal Mark's Heavy Metal Time Machine

"Pareidolia Is A Masterful Metal Listen. Highly recommended." – Metal Odyssey

"These guys sound like a modern day CATHEDRAL or a modern version of the self-titled BLACK SABBATH album." – Voices from the Darkside

"Demon Lung should be selling like gangbusters. This isn't stoner rock or funeral dirge music- it's the classic doom the older folks grew up on and still cherish today." – Eternal Terror

"Demon Lung proved they can match anyone's Sabbath-genuflecting game." – Weekly Seven

"Demon Lung are to be feared, very feared indeed." – Battle Helm

"Demon Lung summon the unholy ghosts of Witchcraft, Pentagram, and Electric Wizard with plenty of slow, downtuned riffage and smoothly eery female vocals." – The Living Doorway

"Doom metal with killer guitar work and percussion that grooves, it all just simply works together. I was blown away." – Full Metal Rock

"Could easily help you to forget superstars such as: Saint Vitus, Candlemass or the British Sacrilege!¨ - The Immortal Spirit of Metal [Rating: 8/10]
July 2012 METAL HAMMER: